On one of our previous articles titled "Predictions: What does 2016 look like?", Mr. Bob Taylor replied, "Next recession is just around the corner." The last Great Recession of 2007-08 left the world of finance into chaos, increased unemployment rate and threatened the collapse of large financial institutions. Today, less than a decade later, expert economists are predicting the next recession in the near future and advice to be prepared for the worst.
In September 2015, Business Insider published an article titled "A

new global recession has begun

".
Former Treasury Secretary Larry Summers says the Federal Reserve must prepare for the worst. Still others say a recession is nowhere in sight — certainly not here at home.  – CNBC

Citigroup's Chief Economist Willem Buiter reiterated his gloomy prediction at the Milken Institute London Summit on Tuesday, telling CNBC that China, Brazil and Russia are edging towards an economic downturn.

If history is your guide, it's time to prepare. The odds of a recession in 2016 may be less than 50%, but not by much. And in 2017, the odds shift. – Fortune Magzine

Billionaire investor Sam Zell said the U.S. economy could go into a recession in 2016 and that an expected Federal Reserve interest-rate increase is coming at least six months too late.
Brazil is already bracing itself for what is expected to be the worst recession since at least the 1930s as the country is forced to cut costs in the annual carnival parade. "Non-essential services are the first to suffer. 2015 was already a very difficult year for us and now we are hearing that 2016 will be even worse.," Gabriel Rapassi, Campinas' director of culture said. Non-essential services include radio, television, computer services etc.
"The economic situation here is even worse than most people imagine. Shops that were spending BRL 40,000- BRL 50,000 with us are now placing orders for BRL 3,000," Olga Valles, owner of Condal, one of Rio de Janeiro's largest producers of carnival masks, said. (The Financial Times)
The recent commodity price decline negatively impacted Latin American economies, and exacerbated the ongoing troubles in the biggest economy in the region, Brazil.
JPMorgan Chase & Co. estimates a 76% chance of a recession within the next three years, with just a 25% of chance of a recession within the next 12 months. According to the report, over the past year corporate margins have fallen more than five percent, which isn't good news. "On most (but not all) of the occasions when this variable fell to its current level, a recession began within a few years," JPMorgan economists write. "Although continued expansion remains our baseline forecast, we will more carefully investigate the risks of recession emanating from the corporate sector."
In "Declaration of the Summit on Financial Markets and the World Economy," dated 15 November 2008, leaders of the Group of 20 cited the following causes for the Great Recession from December 2007 to June 2009:
During a period of strong global growth, growing capital flows, and prolonged stability earlier this decade, market participants sought higher yields without an adequate appreciation of the risks and failed to exercise proper due diligence. At the same time, weak underwriting standards, unsound risk management practices, increasingly complex and opaque financial products, and consequent excessive leverage combined to create vulnerabilities in the system. Policy-makers, regulators and supervisors, in some advanced countries, did not adequately appreciate and address the risks building up in financial markets, keep pace with financial innovation, or take into account the systemic ramifications of domestic regulatory actions.
Today, the situation is as follows: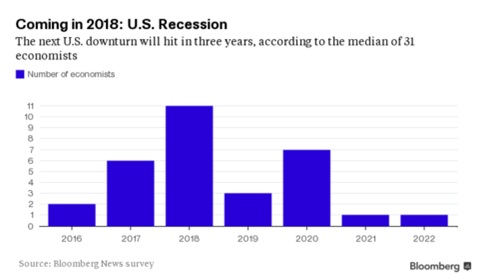 Since April 2015, the SPDR (Standard & Poor's Depositary Receipt) Retail Index, a leading indicator of retail sales, has been collapsing.

Industrial production in the U.S. economy started falling just before 2015. It rebounded in the summer and is now back on the downtrend.

Real U.S. GDP growth has begun to decline, turning slightly negative last quarter.
U.S. export growth has been weakening.
Corporate profits are beginning to decline.

The S&P 500 index has risen more than 92% over the past five years, but is predicted to drop by 25% or more during 2016 as a global recession unfolds.

U.S. unemployment has dropped from nearly 10% at the height of the Great Recession to close to 5% today.
All economic data point towards one thing - patterns similar to right before the last recession.