Medical device technology is a vast field where innovation plays the most crucial role. Innovations in the technological front such as multi functionality medical devices, is at present, one of the most important driving factor. Moreover, for patient safety and consistent & fast analysis many hospitals and clinics are now adopting workflow automation processes. Thus, hospitals across the world are upgrading the information technology (IT) infrastructure which is a potential driver for the medical device technology market. Increasing rare diseases act as untapped opportunity for which growing awareness is one of the factors that fuels the growth of medical device technology market.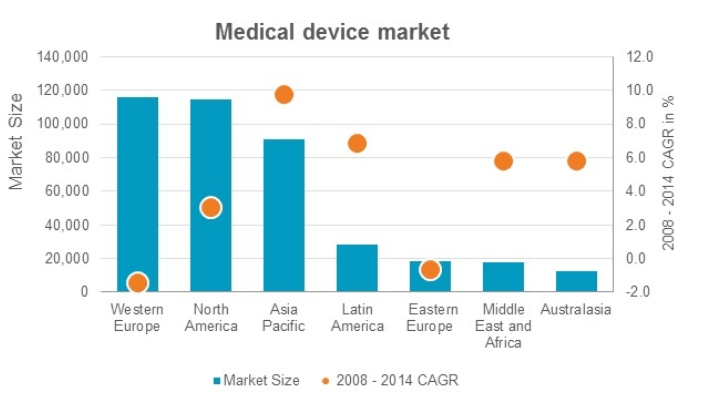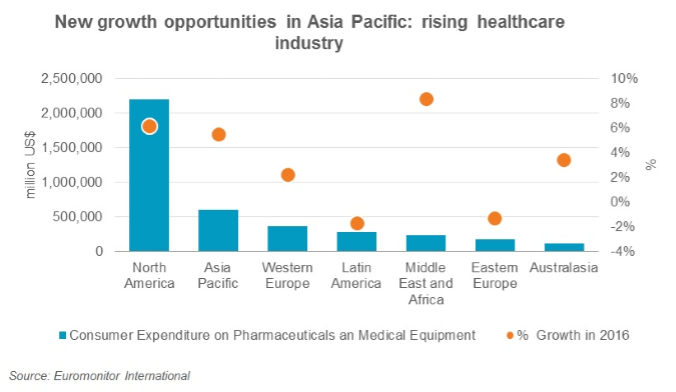 Global medical device production value is forecasted to record strong growth of almost 6% in 2016, and to reach approximately USD 315 billion.
A survey by A&D Medical found that consumers are eager to use wireless wearable medical devices to monitor weight and blood pressure. The demand for medical devices seems to be on a hike.
North America is the largest medical device technologies market in 2015 due to the extensive technological advancements and major market players located there. Europe is the second largest medical device technologies market due to increased geriatric (old age) population and government regulations assisting the market growth. Asia-Pacific is considered as an emerging market owing to the advancements in the technology and health care infrastructure. While Japan, China and India are the fastest growing economy, South American countries like Brazil and Mexico are the regions that have significant potential for growth due to developing medical infrastructure, and high disposable income.
Protection films, an important part for medical devices, helps prevent external influences from entering medical devices and adversely affecting them. Some of the major drivers of for include stellar growth of healthcare industry, adherence to regulatory standards, and increased technology adoption in protection films. Globally, governments are spending more money to provide better healthcare services.
North America is also the largest market for protection films for medical devices, followed by Europe and Asia-Pacific. In terms of volume, Asia-Pacific is expected to be the fastest growing market. China and India hold the key for future market trends in protection films for the medical devices market owing to large population base and growing health care industry in these countries.
Around 70% of India's medical device needs are catered to by imports. "The increase can be an impediment towards providing quality patient care in India," said Varun Khanna, India and South Asia Mof Becton, Dickinson & Co. (BD), a global medical technology company, adding that reducing the duty would likely reduce the overall cost of treatment.
Recently, to control the high prices of medical devices such as stents and implants, Department of Pharmaceuticals (India) has proposed to Health Ministry to bring them under the Drug Price Control Order.
Despite many advantages, hike in pricing and technical complexity restrict the global demand for the medical device technology. Regulatory structures for the approval of the medical devices also act as the restraining factor, and seems like would continue throughout 2016.
Jeff Russell, D of the Global Medical Device Practice at Camstar, talks about the top challenges faced by medical device manufacturers.
Reducing the costs and risks of compliance.

Ensuring supply chain stability.

Speeding up and stabilizing new product introduction (NPI).

Managing top line revenue impact.
Various key players contributing to the global medical device technologies market comprises of Abbott Laboratories, Inc., Becton, Dickinson and Company, GE Healthcare, Biomerica, Inc., bioMerieux, Inc., Novartis Diagnostics, Johnson & Johnson Diagnostics, Inc., Olympus Corporation, Qiagen N.V., Siemens AG, Thermo Fischer Scientific Inc., Zenith Healthcare Ltd, A&D Medical, Aerotel, Animas Corporation, BL Healthcare, Body Media Inc., Boston Scientific, DexCom Inc., Docobo, eHIT Ltd, eDevice, FitSense Technology, iMetrikus,  Instromedix (Card Guard), Masimo Corporation, Medtronic, Microlife, Nellcor, Nonin Medical, Omron, PHD Medical, Philips, St. Jude Medical, Tunstall, ViTelNet, and WebVMC..
The MedTech industry has met its next growth engine – Mobile Health (mHealth). While mHealth certainly has application for industrialized nations, the field has emerged in recent years as largely an application for developing countries, stemming from the rapid rise of mobile phone penetration in low-income nations. The global mHealth market was an estimated USD 10.5 billion in 2014 and is expected to grow 33.5% annually between 2015 and 2020.

Medical technology is important to all of us; we rely on the fact that it will be safe, reliable, and effective if and when we need it. And from the looks of it, medical industry is booming and will continue its progress in the coming years.
Want to know how we can help you in Healthcare Industry? Let our work speak!