Even as more people start shopping online in India, "It will take time for us to get to profitability," Sanjay Baweja, CFO – Flipkart, said in an interview in April 2015.
Founded by Sachin Bansal and Binny Bansal in 2007, Flipkart started by selling books and then added electronics, later becoming a retail platform for businesses to sell their products. In 2013, Flipkart began selling its own branded products, such as tablet PCs and wearable gadgets, a course similar to that taken by Amazon Inc. By early 2015, Bengaluru-based Flipkart had 40 million registered users and hosted 30,000 merchants selling millions of products, from electronics to clothes to sporting goods. The company has more than 33,000 employees.
The Indian ecommerce sector has been growing with a staggering pace. "We now increase our 2020 estimate (of India's ecommerce market) from USD 102 billion to USD 119 billion," Morgan Stanley Research said in a report.
Flipkart is India's largest homegrown e-retailer, with a gross merchandise value of USD 10 billion and a track record of raising USD 3.15 billion in venture financing. But the losses aren't far away. On 3 December, Flipkart reported a loss of about INR 2,000 Crores in the year ended March 2015.
India's leading online marketplace may need to keep sustaining losses as it seeks to win market share by offering the best prices. "Flipkart could post between 35-50% of its sales as operating loss due to its high logistics cost and discounting," said Ruchi Sally, Director at Retail Consultancy Elargir Solutions. "The only way to reduce (this) is to diversify in higher-margin product categories such as apparel and home."
The company expects sales to surge six-fold this year, according to Head of Commerce Mukesh Bansal. It is all set with its future plan to sell out goods worth USD 12 billion by March 2016 which is thrice than that of last year.
The question arising in everyone's mind is whether Flipkart is in loss or profit? The losses vs. revenues speak one thing, but the number of (loyal) customers acquired and brand image spoke another. Is the loss incurred actually an investment for future?
These losses are no stranger to other ecommerce sites like Amazon, Snapdeal, Jabong and such. The competitive spirit among them brought on the heavy discounts wars and advertising to lure more customers.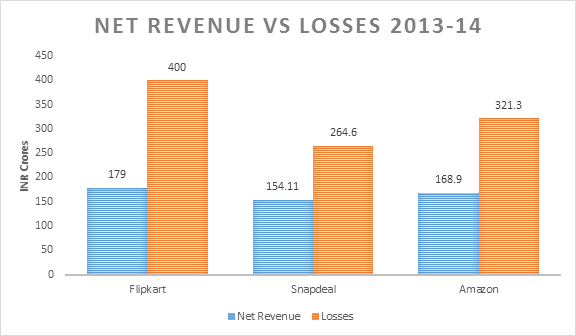 On being questioned about the heavy discount wars and Flipkart's losses close to INR 2000 Crores incurred in the year ending on March 2015, Mausam Bhatt, Flipkart's Head for Growth (Sales, Online Marketing and Alliances) and Senior Director, Mobile Commerce & Online Marketing says, "Over a period of time product differentiation will become more important than the prices. Companies will then differentiate on overall end-to-end customer experience and trust."
Flipkart's recent initiatives such as adding sellers aggressively, greater focus on its logistics business and opening it for third party business, and introduction of new categories (Flipkart Nearby, second hand goods purchase and sale) were intended to help maintain its lead over its peers, as well as add new revenue streams.
With an estimated 200-250% revenue growth and estimated 20-40% operating losses for the year of 2016, even at USD 11 billion valuation, a multiple of 3-5 times seems high.
To the company, these aren't losses but rather investments for the future. With a valuation of USD 11 billion and the increased competitive spirit, the value of number of customers and brand image exceeds the value of revenue. In today's world, any organization is considered successful first on the basis of customer trust and second on the revenue growth. In India, brand matters and most people are purchasing from Flipkart because of its service and brand value.
Alibaba Group President J. Michael Evans recently announced their plans about entering the Indian ecommerce sector in 2016. As for Flipkart, they are planning to raise USD 1 billion funding in 2016 in order to keep its funding momentum going.
The recently announced new policy for foreign direct investment in the e-commerce sector in India has allowed 100% FDI in online retail consumer businesses that operate as marketplaces – companies that act as a facilitator between buyers and sellers by providing a technology platform.
With new competitors entering the market and increased funding, it is only a matter of time before we witness who comes out on the top in the ecommerce wars.