Chinese Pharmaceutical market is currently the second largest pharma market globally, with a value of USD 105 billion in 2014. It is forecasted to increase dramatically to USD 200 billion by 2020 and increase its dominance as a leading player in Asia. Forecasts say there will be over 260 million Chinese with over the age of 60 by 2020, thus creating a surge in the need of medical and healthcare services.
Research and development is rapidly increasing with Shanghai becoming one of the most important global centers while Shandong, Jiangsu and Shenzhen are also known for pharma and biomedicine as per the industrial orientation.
The United States is still the global leader in science and engineering spending, accounting for 27% of the world's total R&D expenditures. However, China isn't far behind, making up 20%. "China is decisively the second largest R&D spending nation," Kelvin Droegemeier, Vice Chairman of the National Science Board said. Between 2003 and 2013, China's investments in the R&D have grown significantly on an average of 19.5% per annum. The U.S. funding for medical research fell 6% in five years the researchers found that the decline was almost entirely driven by reduced investment from the private sector. Henceforth, the surge in Chinese funding prompted many policymakers to ask if the country's pharmaceutical industry could be the next game changer for global public health and access to medicine (ATM).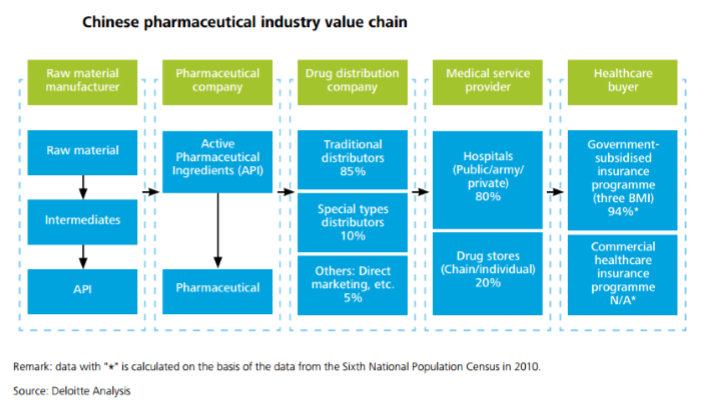 China's pharmaceutical industry can be described as highly attractive for foreign MNCs, who can take advantage of China's low manufacturing costs and to sell into the Chinese market. The healthcare industry in China has been growing at a rate of 20% year-on-year for the past several years, and shows no sign of slowing down. With some of the previous barriers to entry now removed, it has become easier and more appealing for foreign investors to seize opportunities in this industry.
China has emerged as an increasingly attractive R&D outsourcing destination for foreign pharmaceutical companies trying to reduce their products' time and cost to market. China arguably ranks as the best pharmaceutical outsourcing destination among all Asian territories (China, India, Singapore, Japan, Australia, Korea, Taiwan, Malaysia, Thailand, Indonesia and the Philippines) when looking at the multiple factors of cost, overall like pertaining to outsourcing, networking with correct people, investment, copyrights, quality of products etc., and market opportunities.
While it is true that China represents a huge potential market for foreign manufactured goods and services, breaking into the China market successfully can seem like an almost impossible task to foreign companies with limited or no experience of doing business there.
One of the biggest opportunities in China is the diabetes market. In July 2015, China had more than 114 million people suffering from the disease, the highest number of any country in the world. By 2030, China is predicted to have 150 million diabetics.
After decades of double-digit annual GDP growth, the Chinese economy has necessarily begun to slow. The world was certainly shocked by the recently announced Chinese economy growth rate of 6.9% for the last quarter of 2015.
Yu Mingde, Head of the China Association of Pharmaceutical Enterprise Management, said the turnover of China's pharmaceutical manufacturing industry posted a lowest growth in 15 years of 8.76% year on year in the first half of 2015.
Domestic companies investing in R&D include C&O Pharmaceutical Technology Holdings Ltd., Shijiazhuang Pharma Group, Wuxi Pharmatech, Zensun (Shanghai) Science & Technology Co. Ltd. etc.
Foreign companies include -
Novo Nordisk – has a USD 10 million research and development center in Beijing.

Lonza (Basel, Switzerland) has opened a facility in Guangzhou
Discovery Partners International (San Diego, CA) has affiliates in China
Chiral Quest has a research and development facility at a biotechnology R&D park near Shanghai
Affymetrix Inc. and CapitalBio Corporation, a leading life science company based in Beijing formed a strategic relationship to jointly develop and co-market a proprietary, advanced GeneChip.
Restructuring the country's quality of products is a top most priority for the government as per the international standards. While the changes in the regulations are likely to benefit the bog enterprises with resources, especially the ones that have already adopted higher Good Manufacturing Practices (GMP) standards, it will be harder for the smaller companies. Nearly 80% of blood product manufactures will not be able to live up to the new GMP standards.
The government has adopted an ambivalent attitude toward over-the-counter product and does not promote self-medication. By 2020, the Chinese government plans to bring the entire population under public medical insurance, further strengthen infrastructure and streamline drug research and delivery, thus making medicines and medical services accessible to all.
China's anti-monopoly regulator has fined five domestic drug firms a total of close to 4 million yuan (USD 607,977) for fixing the prices of their medicines, as the country battles to keep medicine prices down.            
In 2008, a food and safety incident involved milk and infant formula along with other food materials and components being adulterated with melamine. In the wake of this melamine poisoned milk scandal, the Chinese authorities have taken a tougher line against companies that openly flaunt the food safety law, whilst the SFDA is also tightening regulations on pharmaceuticals and medical devices to avoid similar events from occurring in the future.
On June 15, 2015, the General Office of the State Council promulgated several policy measures to promote the acceleration of the development of the private investments in the healthcare sector. It proposes 16 specific measures from four major aspects: further relaxing the entry barrier; expanding the investment and financing channels; promoting resource flow and sharing; and optimizing the environment for development.
China offers a combination of cheaper labor and laboratory set up costs, as well as strong government incentive programmes to support and foster the domestic pharmaceutical and biotechnology industry. China's last incentive plan, effective Jan 1 2008, the new Corporate Income Tax Law and other regulations provided tax incentives/schemes to encourage R&D activities in China. R&D centers which provide research services to overseas companies can enjoy preferential income tax rates and turnover exemptions.
In April 2015, China amended its Drug Administration Law, introducing two major changes.
The first is a simplification of the company set-up procedure for pharmaceutical companies. Prior to the amendment, investors that wanted to manufacture or distribute pharmaceuticals needed to have a Drug Manufacturing License or a Drug Distribution License before applying for a business license. Now, investors may apply for these after the company has been set up, significantly speeding up the incorporation process.

The second amendment removes the price controls that the Chinese government had in place for medicines. About 23% of the medicines on the Chinese market had government fixed or guided prices. The price of other medicines was left to market forces. While these price restrictions are now fully removed, companies still need to abide by China's anti-trust laws.
Although forecasts suggest China's pharmaceutical industry to slow down further in 2016, China is still the fastest pharma growing market globally and is continuing heavy investment in R&D. It is fickle at the moment due to the slow growth in China's economy and new government regulations, but it would be a risk worth taking, if only cautiously!
Want to know how we can help you in Healthcare Industry? Let our work speak!