World Immunization Week (WIW) – celebrated in the last week of April – is a global public health campaign that aims to promote the use of vaccines to make people immune against few specific diseases. Immunization is considered as one of the world's most successful and cost-effective health interventions.
The World Health Organization (WHO) says that immunization averts up to 3 million deaths annually, and an additional 1.5 million lives could be saved if the global rate of vaccination is improved.
WIW is one of eight official campaigns marked by the World Health Organization (WHO), along with World Health Day, World Blood Donor Day, World No Tobacco Day, World Tuberculosis Day, World Malaria Day, World Hepatitis Day and World AIDS Day.
Each WIW focuses on a theme. The year wise themes till date include:
2015-2016: "Close the immunization gap"

2014: "Are you up-to-date?"

2013: "Protect your world – get vaccinated"

2012: "Immunization saves lives"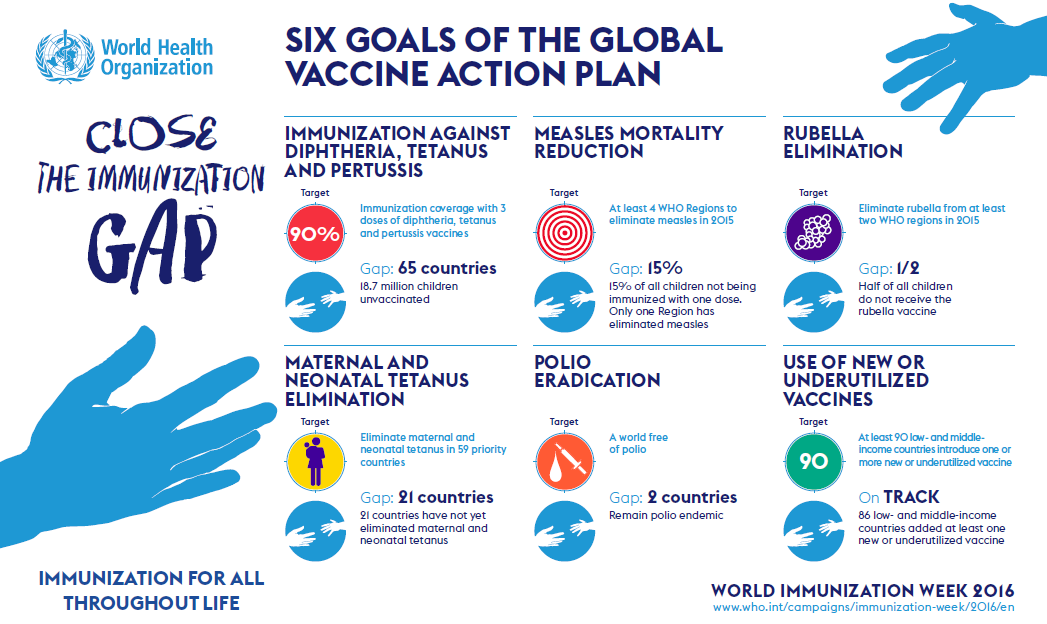 More than 60% of children who are unvaccinated live in 10 countries: the Democratic Republic of the Congo, Ethiopia, India, Indonesia, Iraq, Nigeria, Pakistan, the Philippines, Uganda and South Africa.
Europe leads and coordinates European Immunization Week (EIW), in conjunction with other WHO regional initiatives and World Immunization Week. EIW benefits from Regional and national partners, including the United Nations Children's Fund (UNICEF) and the European Centre for Disease Prevention and Control (ECDC), support implementation and high-level support at the national level, including ministers, ambassadors and other distinguished supporters. At the regional level, the initiative has the support of WHO/Europe's Patron, Her Royal Highness Crown Princess Mary of Denmark.
Not behind, Punjab's Expanded Programme on Immunization is to commemorate the WIW in a befitting manner and spread awareness about it across the province.
In a message on the occasion, Chief Minister Punjab of Health Khawaja Salman Rafique said, "With more professionalism and smart use of technology we have been able to boost routine immunization to around 84% from mid 50s within just one year. Our target is to reach 90% by end of this year. The occasion provides us an opportunity to renew our pledge towards vaccine preventable diseases."
Primary and Secondary Healthcare Secretary Punjab Ali Jan Khan said, "We are especially focusing the districts low on Human Development Index. Reaching out to children of vulnerable populations, not yet vaccinated is our top priority."
Punjab Health Services Director General Dr. Mukhtar Hussain Syed considers getting a green light in pre-validation for mother and neo natal tetanus elimination status was a milestone for Punjab.
Coordinated by the Pan America Health Organization (PAHO) and WHO in America, about 60 million people are set to be benefit from the vaccines during WIW. Olympic gold medalist Usain Bolt enthusiastically supports the initiative, urging everyone to "Go for the gold! Get vaccinated!"
The regional launch for (America) this Vaccination Week 2016 will take place in Kingston, Jamaica, with PAHO Director Carissa F. Etienne participating, followed by national and multinational launch events throughout the region.
"Last year immunization led to some notable wins in the fight against polio, rubella and maternal and neonatal tetanus," says Dr. Margaret Chan, WHO Director-General, about WIW 2015. "But they were isolated wins. Polio was eliminated in 1 country, tetanus in 3, and rubella in 1 geographical region. The challenge now is to make gains like this the norm."
Some of the major developments over the past years are –
The target for introduction of new or under-utilized vaccines is on track worldwide, with 86 low- and middle-income countries introducing 128 vaccines since 2010

Promising candidate vaccines against Ebola were developed and tested in record time

Africa has not had a case of wild poliovirus since August 2014 – an enormous achievement that brings the region closer than ever to being certified polio-free

India has been declared free of maternal and neonatal tetanus, demonstrating disease elimination is possible even in challenging circumstances

The Americas became the first region to eliminate rubella and congenital rubella syndrome.
The Government of Ontario recently announced that boys will now be offered the cancer-fighting human papillomavirus vaccine along with girls. The shot is currently offered free of charge in Ontario schools to girls in Grade 8. The new program will expand access to all children in Grade 7.
This combined and determined efforts by WHO and government for the promotion of vaccination is one step towards ridding the world of as many diseases as possible. One life at a time.