Indian Prime Minister, Mr. Narendra Modi, during the launch of PradhanMantri MUDRA (Micro Units Development and Refinance Agency) Yojana in April 2015 said that supporting the small entrepreneurs of India is the biggest way to help the Indian economy grow and prosper. Stressing the contribution of small entrepreneurs in the economy, the Prime Minister expressed confidence that by 2016, the major banks would also adopt the MUDRA model.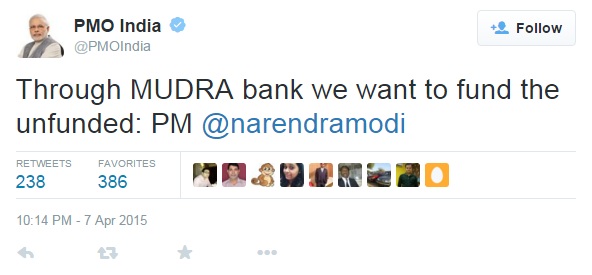 The PM also highlighted the funding problems faced by more than 57 million small businesses across India and how MUDRA aims to reduce borrowing costs of these borrowers as it will provide refinancing at a relatively low 7% rate of interest.
MSME (Micro Small Medium sized Enterprises) sector accounts to approx. 45% of the manufacturing output and 40% of total exports of the country. The labour to capital ratio in MSMEs and the overall growth in the sector is much higher than in the large industries. Thus, MSMEs are important for the national objectives of growth with equity and inclusion.
Yet, these MSMEs face many challenges; mostly financial in nature.
Many

MFI (Microfinance Institutions)

started and/or supported by the Government of India (GoI) take 30-60 days to process & disburse loan applications, which is way longer a processing time for MSMEs.

MSMEs in India usually don't prefer going to the banks for evident reasons. Even though the Govt. of India guidelines for availing business loans below INR 10 million do not require collateral submission by the applicant, the banks still ask for collateral and guarantors.
The GoI has taken significant initiatives to solve these problems of MSMEs and some of the key initiatives are:
However, these initiatives too have not been able to substantially address the key challenges faced by MSMEs and the following shortcomings are often witnessed:
CGFT and SIDBI initiatives were supposed to facilitate loans without the need for collateral/third party guarantees, however the issuing banks still continue to insist for the same for processing loan applications.

MUDRA initiative is tasked with refinancing MFIs. The model advocating reliance on MFIs has come under scrutiny because these institutions charge exorbitant rates and employ coercive tactics of loan recovery.
Nonetheless, as on 22nd October 2015, loans worth INR 352.41 billion were disbursed to over 60 lakh MSMEs under MUDRA since its launch in April 2015. During a campaign launched from 01st September 2015 to 02ndOctober 2015 itself loans worth approx. INR 90 billion were disbursed under MUDRA initiative.The disbursed loans fall in three categories: Shishu (up to INR 50,000), Kishore (INR 50,001 to 500,000) and Tarun (INR 500,001 to 1 million).
MUDRA has almost given "a new hope of a better future" to many women entrepreneurs who, without essential education background or work experience, seem to be borrowing money for setting up their own ventures in form of beauty salons, boutiques, eateries and many more, according to Times of India report.


Source: MUDRA
Stay tuned for our next article on SEZs role play in MSMEs' life today.